Using Emojis 
Emojis are small, digital images or icons used to communicate or express concepts such as emotions and physical gestures in your messages.
Adding Emojis to messages 
Selecting an emoji 
Select the Smile icon inside the Mattermost message input box to open the Emoji Picker.
Typing an emoji 
Alternatively, open the emoji autocomplete by typing : followed by at least two characters of the word describing the emoji. Descriptions include skin tone details for people-based emojis, where supported.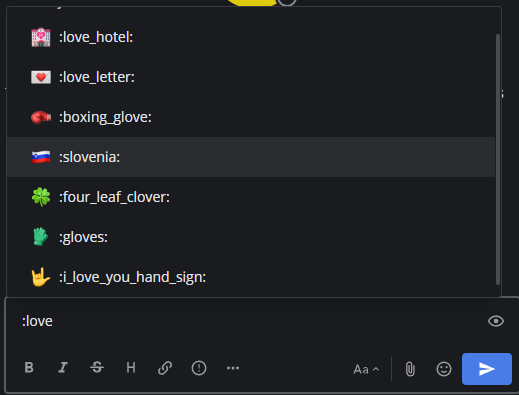 It's also possible to create your own custom emoji if the emoji you want to use doesn't exist.
Creating Custom Emojis 
You can create Custom Emojis which are available to everyone on your Mattermost server. From the Emoji Picker, select Custom Emoji. Small, square pictures work best when selecting an image to upload. The file can be any JPG, GIF, or PNG and up to 1 MB in size.
Enter a name for your Custom Emoji. This is the name that will show up in the emoji autocomplete.

Choose Select, then select the image to use for the emoji.

Select Save.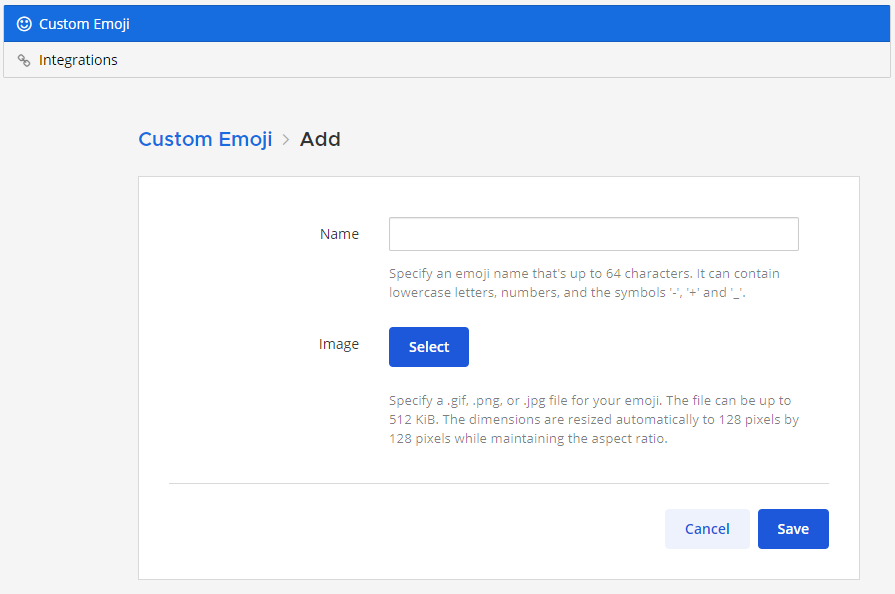 Once saved, your emoji is added to the list of Custom Emoji.
Using Custom Emojis 
To use your Custom Emoji in a message, simply type : followed by your emoji name to bring it up in the emoji autocomplete. Other users on the site will also be able to see your emoji in the autocomplete, and will be able to use it in their own messages.